It has been a while since I've posted on the blog, maybe I can make this a thing.
Today I began the first leg of a motorcycle road trip that will last a little under two weeks and should add at least 4000 miles to the odometer of my trusty 2001 Goldwing.
For trips in general, I tend to avoid the interstate, instead opting for various smaller highways and sideroads. The interstate is fast and efficient, however the scenery is typically not as great, and you miss all the charm of various small towns and villages the less trafficked roads will take you to. I will be doing as much of this ride on these various side routes as I can, opting for interstates when I need to meet some kind of deadline or otherwise get to the destination in a hurry. They say it is the journey, not the destination that matters, and rushing it ruins the fun.
For the first stop of my ride, I had an appointment with Velocity Cycles in Carlisle PA. The Goldwing was overdue for an oil change, and the front tire and wheel bearings did not have much life left in them either. Velocity helped me out back in August, I was then heading to the West Virgina Buell Rally on the Goldwing, I had stopped for breakfast at the Awful House, while I was getting ready to hop back on the road, I noticed that my rear tire had been consumed at a much higher rate than I had anticipated, and there was no way I was going to be able to make it to the campsite and back home. Luckily, Velocity Cycles was just 2 miles away on the same road, I had ridden over there and sure enough they had a tire in my size in stock and were able to squeeze me in quickly. I was very happy with the service and reasonable pricing, so I had promised them I would return in the future but next time with an actual appointment.
Today was that day. Because I actually had an appointment this time, they were able to get my preferred Metzler tire instead of what they just had in stock, and were able to ensure that they would have the wheel bearings handy too. Ever since I bought the bike a few years ago, I've noticed that it was particularly noisy up front, I had asked my local mechanic to check the bearings and was told they were fine, so not being very familiar with other Goldwings I just assumed they all were like that. Back in August, Damnut had borrowed the Goldwing to go for a ride with his wife, and he commented regarding the bearings too. Now knowing that I'm not crazy, I had Velocity swap them, and the bike is soooo much quieter putting around.
Getting to Carlise for their earliest available appointment meant I had to leave New York before 6AM, so it was a dark and very cold ride in, temperatures fluctuated but I saw 36 degrees Fahrenheit at one point. Even the big fairing on the Goldwing only does so much to help keep you warm, I had extra layers on but I currently do not have the plug to connect my heated suit to installed on this bike. The 4+ hours of I84 and I81 was interesting due to the construction. Everything was smooth until I got to Wilkes-Barre PA. They were doing construction and the right lane was closed, leaving only the left lane open. However, given that this was rush hour, we can't have nice things so someone got into an accident right before the lane closure, now the left lane was blocked right before the right lane closes. I had the CB radio on so I heard lots of colorful commentary from the truckers who understandbly were not happy with the situation. My favorite comment was regarding the construction zone, it was a long stretch with only one lane operational, and most of it had no construction vehicles or equipment nearby, so one trucker was speculating that the workers get paid $20 per cone placed. After losing over a half an hour due to that mess, things were smooth sailing, and I got to Velocity Cycles only 10 minutes after they opened.
While the mechanics were doing their thing, I went to go get breakfast. Velocity is on a main drag right near I81 and the PA Turnpike, however they still are not exactly close to anything besides a Sheetz gas station. I was tempted to load up on deep fried mac and cheese bites from Sheetz, but since I knew I had time that I would go for a walk. About a mile away was diner-esque restaurant called Sunny Side Family Restaurant. It is a nice place that is easy to pass by, blending in among the various other small businesses on the strip.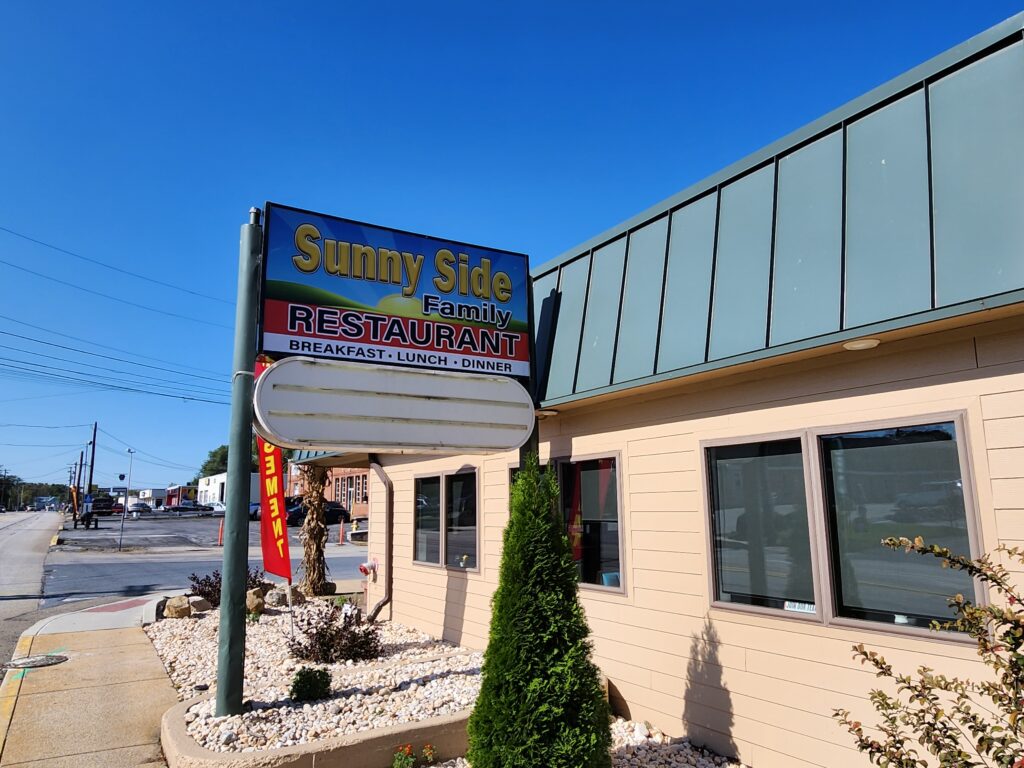 They still had a decent crowd for 11AM on a Tuesday, more packed than the Waffle House would be for sure, this place clearly was where the locals hang out. They seated me, and I took a look at the menu, which was printed on both sides of the paper placemat. They have a good variety of eats like you would expect from a diner, such as breakfast all day, burgers, sandwiches, and more. I was craving waffles, however they did not have those, so I went with the next best thing. They had a combo called the Super Sunnyside Breakfast, which was 3 pancakes (or French toast), 3 eggs, 3 strips of bacon, and a pile of home fries, all for $12.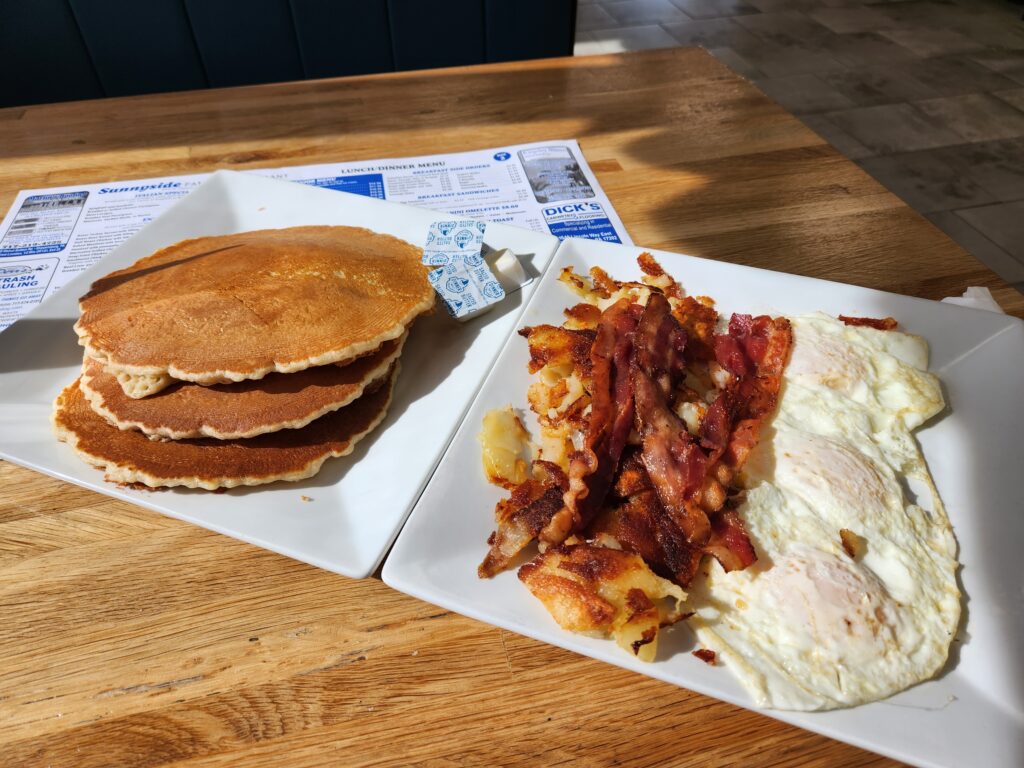 They did not disappoint. They were very quick to whip them up and serve them, I had just gotten my laptop fired up when I heard the order up bell from the kitchen, I assumed it was someone else's order as it just a few minutes after mine was placed, there was no way mine was done already. But sure enough, it was. The waitress (which I'm now blanking on what her name was) had brought it out and I began to pig-out. She was on top of everything, bringing me refills of my sodas before I even ran low. Good service like that doesn't come around often.
By time I finished my meal, the place was starting to get busy, it was now the lunch hour, so I paid and walked back to the shop. Things took a bit longer than expected, some other work needed to get done like brake pads, also one of my turn signals burnt out and of course it is an oddball size they didn't have in stock. Eventually everything was squared away, and I hit the road again. I was starting to head towards West Virginia, my original plan was to visit the abandoned section of the PA Turnpike and an ice cream shop that was recommended to me, but due to time restraints I'll have to try for those on a different trip. Along my route however was the Worlds Largest Paint Can, which is some kind of silo that is painted to look like a giant paint can, including with a giant carry handle. That is right off I81, but I got there by taking sideroads from Carsie.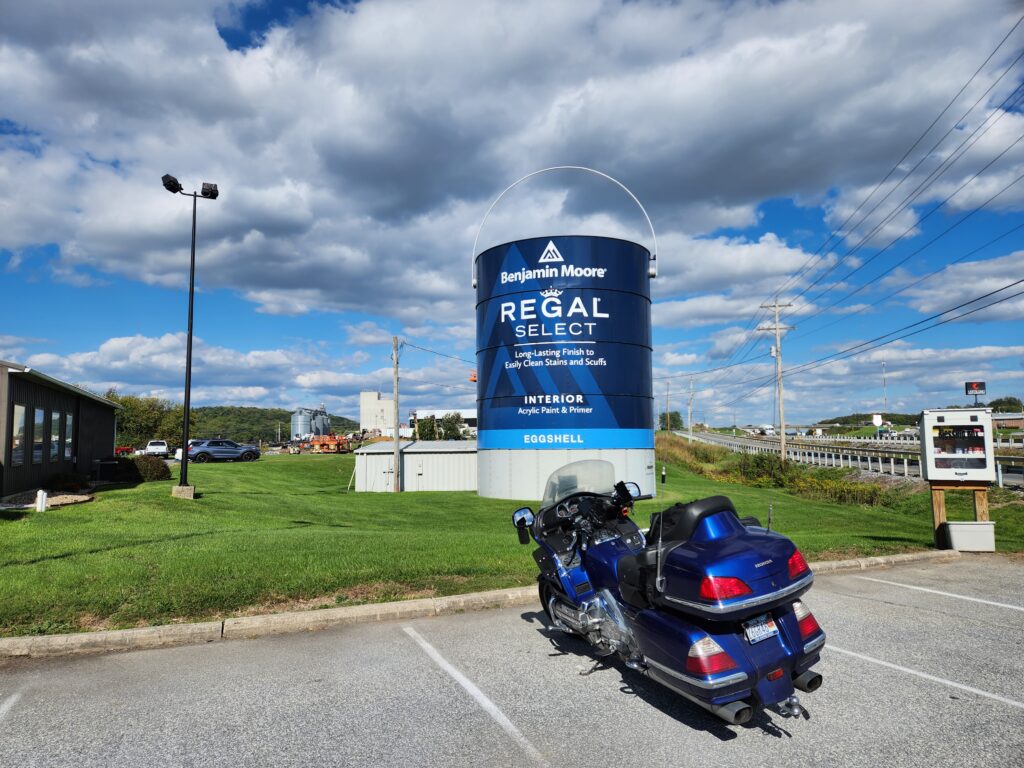 After a quick photo-op I set my destination to where I'd be staying the night in Dryfork WV, one of my fellow Buell rider's Janette was nice enough to offer me the guest bedroom. This still was at least 3 hours away, so I had to get going if I was to get there before dark, so I couldn't make any more real stops.
I just used Waze and did the avoid freeways option, it doesn't do anything fancy like the curvy road finder option on my Garmin, but it still brings me down interesting roads while getting me there in a timely fashion. It ended up routing me down the Lincoln Highway, then route 220 through Maryland, and route 48 to get me to my destination. At one point I quickly pulled over to take a photo of some cows on a hill, it reminded me of the iconic Windows XP wallpaper. When I did that, the cows noticed and came right up to the fence as if they thought I was going to feed them or free them. Sorry Bessie, not today.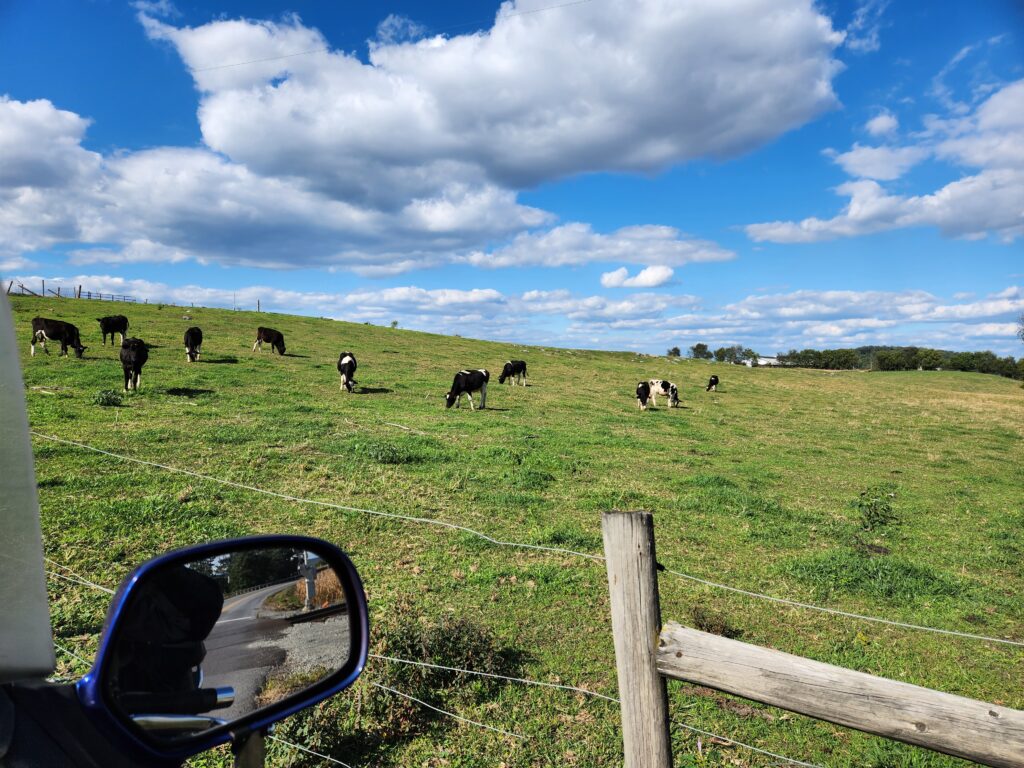 Continuing on through the countyside, it wouldn't be a trip through Pennsylvania if I did not see at least one Amish buggy, and some of their kids putting along the side of the road on their not quite bicycle/scooter things. Eventually I made it to the Lincon Highway and followed that for about an hour, going through various towns, and was pleasantly surprised at some of the twists and turns when it got to the mountain range. Thankfully it had a truck lane to prevent the slow vehicles from impeding the flow.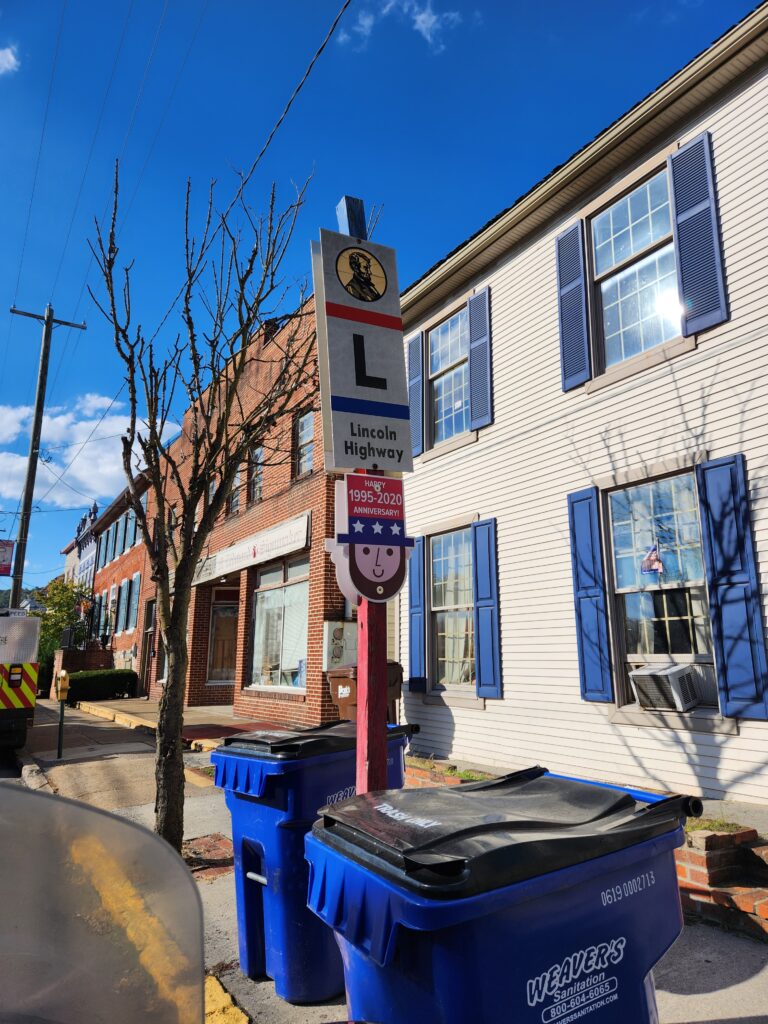 220 is a nice ride going from PA all the way through Maryland into West Virginia. Other than a small stretch going directly through the city of Cumberland, it is a nice scenic ride in mostly rural or otherwise undeveloped areas, and the traffic usually moves along quickly too. Once in West Virginia, I could tell I was running short on time. The sun was dropping, so was the temperature. Before leaving Carlisle, I had switched to lighter/ventilated gloves and took out my jacket liner and opened most of the vents on my suit due to it being in the mid 70s Fahrenheit. Now that it was getting closer to the evening, the temperatures quickly came down into the 50s. Thankfully I could just readjust the Goldwing air deflectors to create a bubble around me, however my bigger issue was the sun, I was driving directly into it.
My helmet has a built in drop down sun visor, but while that helps in the middle of a sunny day it is not very effective against staring into the sunset. I ended up using one hand to block as much as I could, I must have looked like a crossing guard holding my hand in front of me almost nonstop for an hour, but it worked, and I pressed on. Rt 48 in West Virginia is beautiful and scenic, and despite the 65MPH speed limit and two lanes in each direction, I had the highway to myself, I didn't see another car going in the same direction for the entire stretch I was on. The road follows along the side of a mountain, and at the top of this mountain is a continuous row of several dozen massive wind turbines, mesmerizingly spinning away.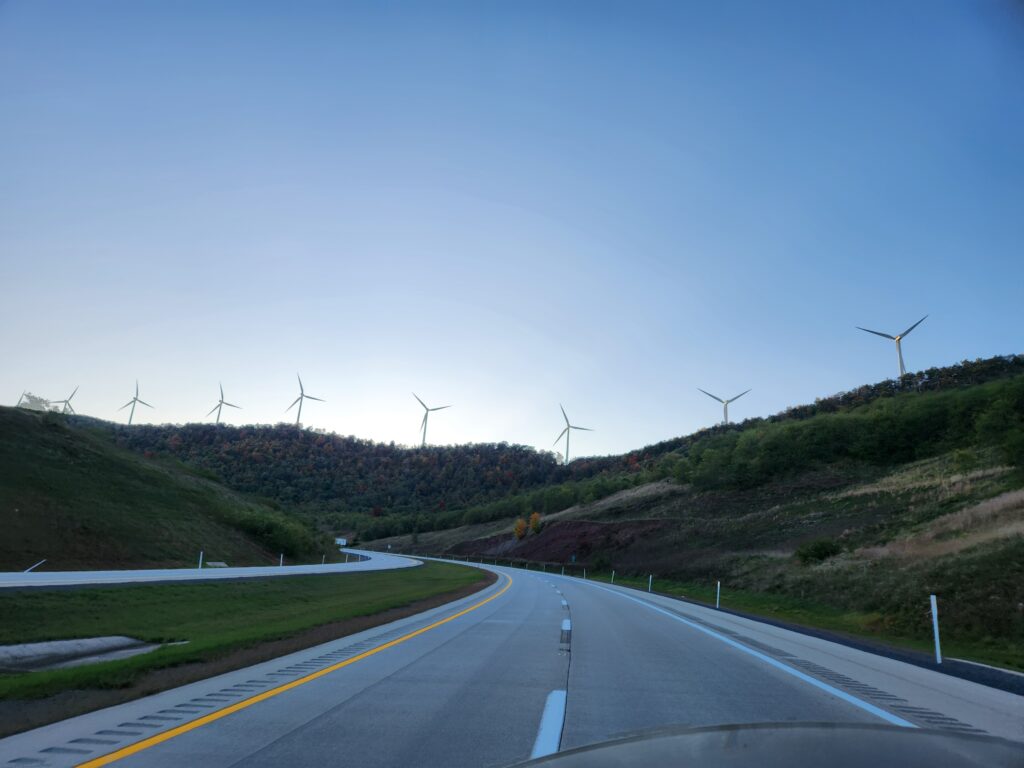 Day 1 completed, 497 miles. I'm still not 100% on where I'm going tomorrow, maybe I'll see the radio telescope and the gorge before heading south.