Last night I stopped at the Iron Horse Station, a nice bar and restaurant which was a very short walk from the cottage I'm staying at in Hot Springs NC. It likely gets part of its name for being literally across the street from the train tracks, I'm not sure if the trains actually stop here in town, but I heard one go by this morning, so the rail is active. The restaurant is also part of an inn and store front.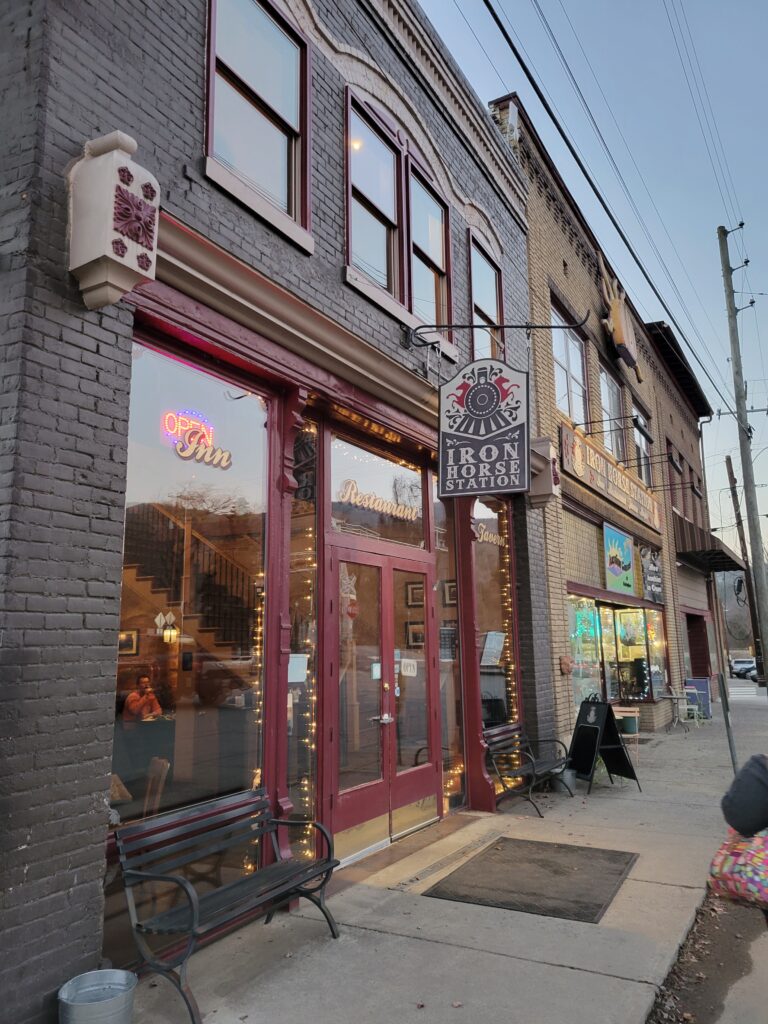 My Fiancé and I arrived when it was starting to get dark, so I didn't get a very good look at the place, but it appeared to be a beautiful brick building shared with other store fronts. Inside it felt old and industrial with brick walls, hard wood floors, comfortable but dim lighting, and fireplace. There are two floors for seating, we were seated in a booth on the lower level not far from the bar and kitchen. I liked the spot we were seated at; it was in the right place to observe a lot of what was going on in the restaurant along with being able to peak into the kitchen. They had drapes to cover up most of the view, but I could see everyone in both the back of the house and up front busy doing their thing to feed hungry customers on Valentine's Day.
Being that this was Valentine's Day, the place was packed of course, but they were still able to quickly seat us. I personally am not a fan of going into packed restaurants these days for multiple reasons but given that it was our anniversary I made an exception, and I'm glad I did. I hate taking pictures of crowds so I didn't get anything of the interior, I'll see if I can stop in again and update this post.
The place was busy, but we still got great service from our waitress Rhia, who looked like she was taking care of about half of the lower level. She was very friendly and personable, and properly understood my fiancé's gluten allergy without us even directly stating it (more on that later). She and the rest of the staff here are very nice and accommodating.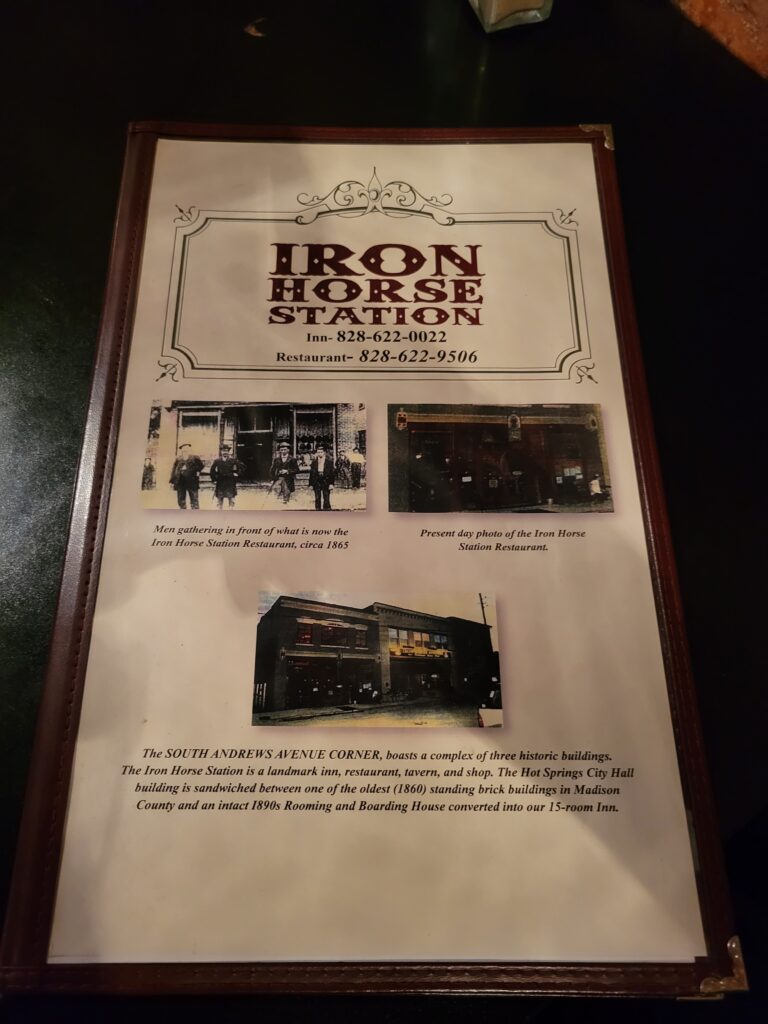 For drinks, I saw they had cider on tap and I'm a sucker for those, so I ordered up the Nobel Village Tart which has a cherry flavor and a reddish tint. My fiancé ordered up the sweet tea. If there is one thing the south does great, it is sweet tea. I don't know what the heck is different about it, but almost everywhere I go down south has very good sweet tea. Some better than others, but always a hundred times better than any sweet tea up north. My all-time favorite sweat tea was from the French Broad River Dude Ranch in Del Rio TN, which is only 16 miles from the Iron Horse. Definitely not a coincidence, maybe it is something in the water here, Iron Horses tea was just as good if not better. So good we ended up actually getting some to go. I loved the cider too, and since Nobel is local, I'll try and check out their tap house in Asheville to try their apple pie flavored one.
Now finally onto the food. The menu has a wide range of American fare, and a surprising amount of seafood for something being all the way up in the mountains, their special of the night was a surf and turf of steak and lobster, but I'm not a seafood person so I ordered off the regular menu. After carefully deliberating I ended up getting an order of baby back ribs, with sides of mac & cheese, and a loaded baked potato (I love carbs). My fiancé ordered a steak with mushrooms and onions and their "starch of the day" veggies.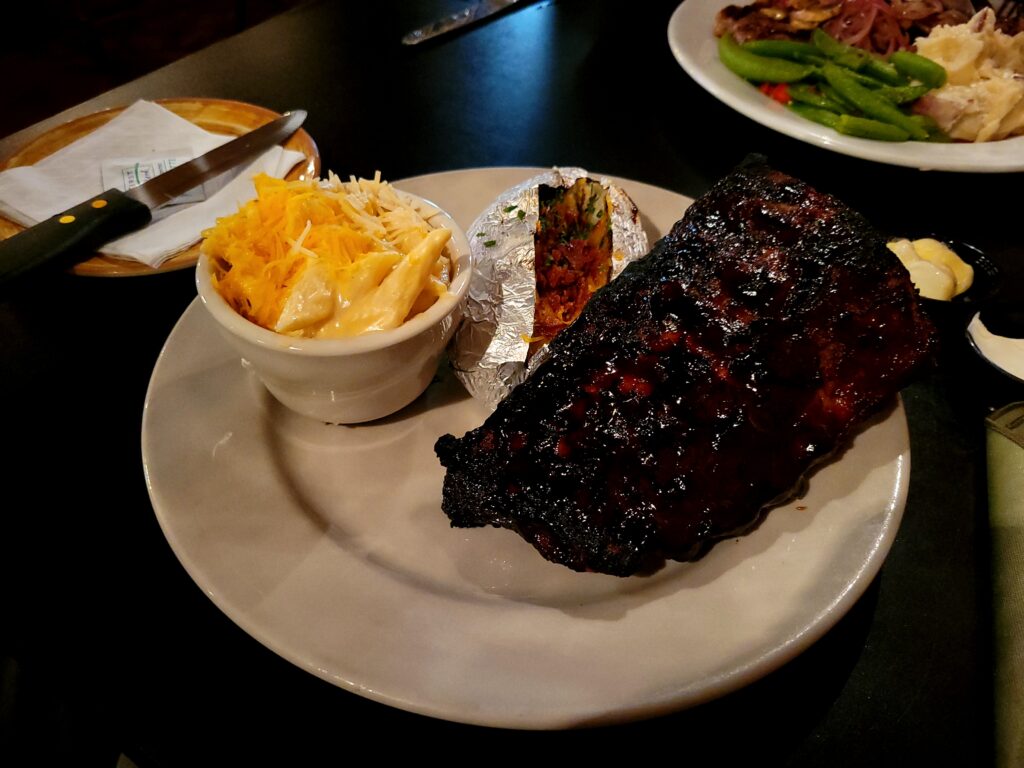 The food did seem to take a long time to come out, it was super busy so I expected that to happen but it just meant I spent more time staring into the eyes of my love so that was OK with me. Eventually our waitress returned and informed me they didn't have enough ribs for a full rack, but they were going to still get me a half rack and asked if I wanted something else. I declined, I figured a full rack was going to be excessive anyway, but you all know how much I love overstuffing myself. Shortly later, she returned with our food. Everything was perfect and to order so we started digging in. Personally, I'm always hesitant to get BBQ items at a non-BBQ joint, they often disappoint but the ribs at Iron Horse are something I would recommend to anyone. The outside had a nice charring that gave it a good crunchy texture and sauce was nice and sweet and very sticky. The meat didn't fall off the bone like if it was smoked at an actual BBQ joint, but they did a great job with however it was cooked, so I know I would have enjoyed the extra half the rack if I had it. The mac & cheese was penne pasta with various cheeses on it including some shredded ones on top, nice and saucy. The baked potato was good too, it had a decent number of chives, bacon, etc. on it but wasn't overflowing.
The whole dinner was great, the half rack of ribs ended up being the right portion for me. Because of situation with the ribs, our waitress offered us free desert, and who would turn down free desert? Of course, the thing I really wanted, the peanut butter pie, had sold out, she suggested the brownie sundae instead, so I went with that. Earlier when we were ordering, my fiancé asked if the fried onions for her steak were breaded, which our waitress confirmed were as they were essentially like onion rings, so instead she got regular fried onions. Our waitress remembered that and suspected it was gluten related and offered my fiancé the gluten free chocolate cake. She declined as she doesn't like chocolate enough to have a cake that is only chocolate, but I did appreciate our waitress's attention to detail.
My brownie sundae came out and it also was terrific. The brownie itself was literally steaming hot and went great with the vanilla ice cream on top. It was nice and soft, with a good flavor and texture that melts in your mouth. It wasn't peanut butter, but I was not disappointed with it either.
Thank you, Iron Horse Station, this was a fantastic night, it isn't often we get service and experience this great especially since Covid started.